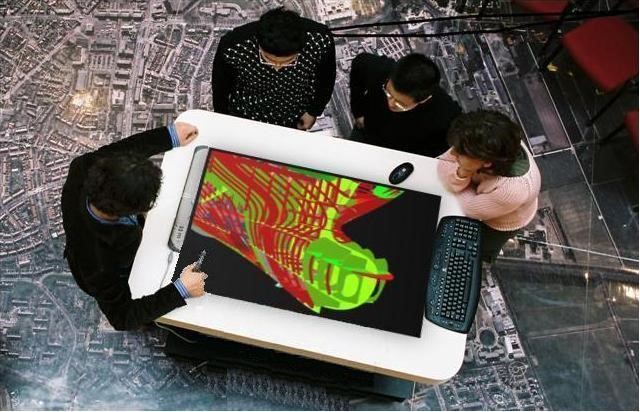 The MasterShip Workshop Assistant® brings your 3D virtual model into the workshop,
making 2D workshop drawings obsolete.
No more complex 2D drawings of a complex 3D model needed!

After a two year innovation program and intensive try outs with two client shipyards, MasterShip has developed a completely new software and hardware solution.
All needed building information is available.

Our Workshop Assistant® exists of a computer with A0 touchscreen monitor and specialized software that brings the 3D ship model to the shop floor. In principle the hardware is workshop proof! First tests by two shipyards gave great results. Building information was much easier to understand and provided welding, fitting and assembly information to the workers. The integrated computer can be connected to the network to provide the latest information. Engineering costs drastically decrease as the expensive creation of production drawings is eliminated and more, better and updated information is made available. For extensive use in shipbuilding you need the following configuration: Hardware: MapTable ( all required driver
software included) A4/A3 printer Additional Software: MasterShip Production Software AutoCAD 2015 or later Navisworks Manage 2018 or later


For other uses in the shipbuilding industry, such as viewing only, or for use in other industries, we deliver the MapTable without additional software. The MapTable is equipped with a general computer system so you can install any software you require. (Software must support touch screens to fully utilize touch screen functionality.)

Workshop Assistant® Hardware Specification
The MasterShip Workshop Assistant® (MapTable®) is a moveable and adjustable screen. It is a stylish and flexible solution for lectures, discussions, viewing and technical meetings. The MasterShip Workshop Assistant® is equipped with a powerful computer en offers a wide range of software applications. It is usable for many purposes such as viewing of concepts, basic and detailed drawings and 3D models and production. The table can work with a mouse, a keyboard, a digital pen and a touch screen.
Technical specifications of integrated computer:


Processor
Intel i7
RAM
6 GB
Video card
NVIDIA GeForce9400GT
WiFi
yes
USB 2.0
yes
Technical specification of integrated screen:
Diagonal (cm/inch):
47 inch
Screen type:
TFT LCD
Resolution:
1920 x 1080
Active screensize
1039.68 x 584.82 mm
Aspect Ratio:
16:9
Brightness (Cd/m2):
500
Brand:
Philips
Contrast ratio:
1000:1
Response time (ms)
8
Accessories/Options:
Touch Pen (Mimio(tm))
Finger touch (NextWindow(tm))
A4/A3 printer according to requirements